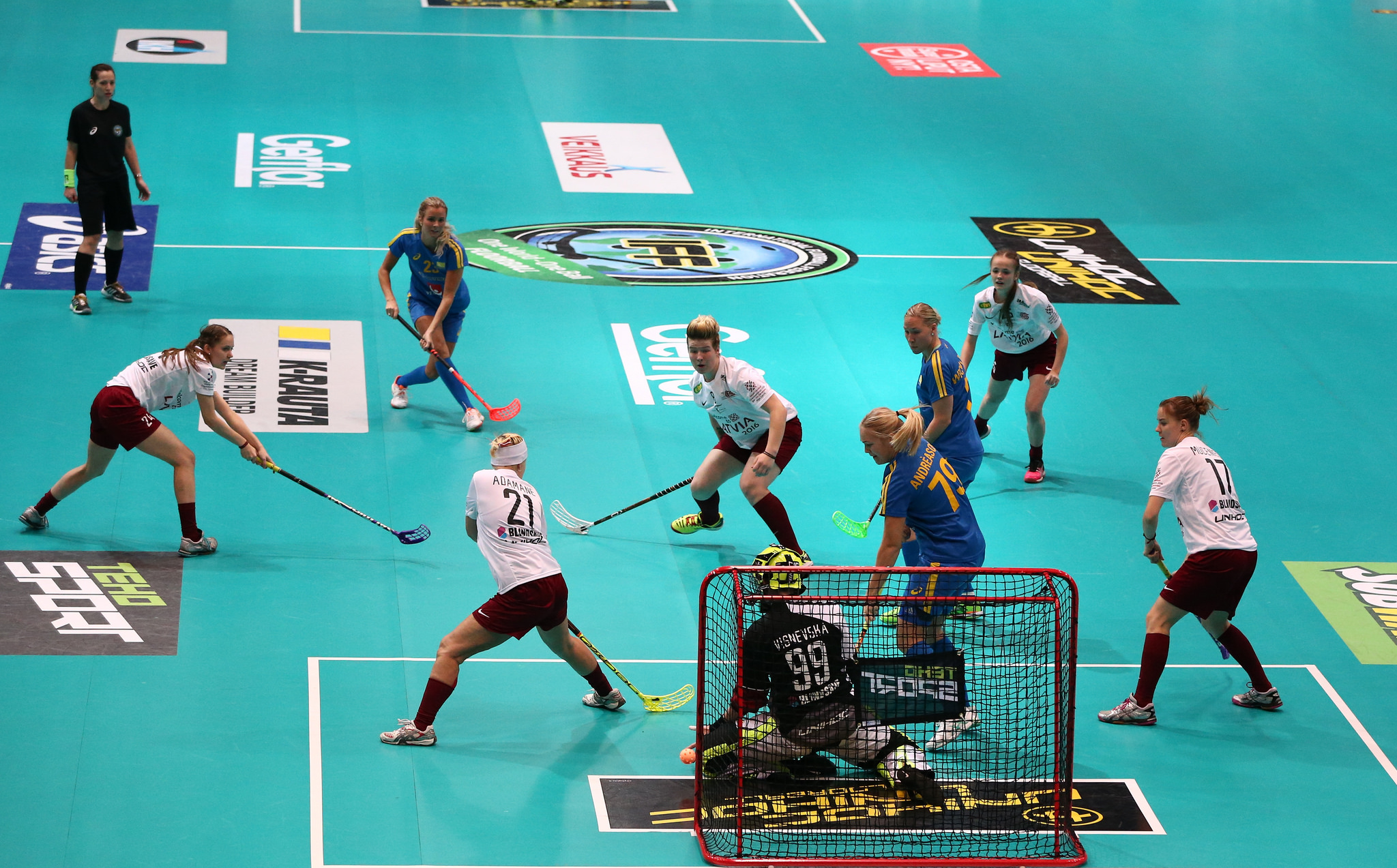 Name of the game was obvious in the beginning of the match between Sweden and Latvia. Latvia played for possession three in Group B. On Sunday Latvia played draw against Germany so goal difference will decided third possession in group. Before games on Monday Latvias goal difference was -13 and Germanys -15.
It was like a power play for Sweden all the time. Ball never left from the attaching zone of Sweden. Latvia defended very tight and hard and after 10 minutes game numbers were still 0-0. Aman Johansson Delgado scored the first goal of the match at 13.30. After first period numbers were 2-0 for Sweden.
In second period Latvia kept going in the same format. All five players just defended in the own zone. They succeeded well because Sweden extended the lead only by three goals and in third period by two goals. Final result was 7-0 for Sweden.
After three matches Latvias goal difference is -20. They have to hope that Czech Republic will win against Germany with more than 5 goals.

The best player of the match was Latvias goalkeeper Lauma Visnesvka who had incredible 44 saves. After the game she wasn´t disappointed at all even her team lost.
- It was our tactic, that I´m in the net and there are 5 players defending all the time. We gonna play like 0-0 all game.
It was hard tactic for goalkeeper.
- I don´t have time to have any break. In third period you really have to fight for every saves and push yourself really hard all the time.
- I have to say this is the best Latvian team I have ever seen. Today it was like heaven to play with my girls. Oh, I love them, they are awesome! described Visnesvka.
Sweden showed again that they are a good team.
- It was quite hard for us today. Latvia played really good and goalkeeper was fantastic. It was like power play for us all the time. We should have more tempo in our game, said Iza Rydfjall.
Sweden scored 7 goals with 6 different goal scorer and one was Latvian own goal.
- We have many players who can score goals and thats´s good. We are well prepared against better opponents, told Rydfjall.