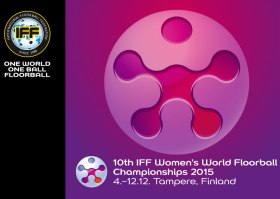 Sweden are World Champions for the fifth time in a row! Sweden beat Finland 5-4 in today´s final in a penalty shootout with Amanda Johansson Delgado scoring the winner in the sixth pair.

Sweden was already only one ball away from defeat as Anna Jakobsson had to score as their fifth shooter to tie Finland´s 2-1 lead. Known for her "vinnarskalle", Jakobsson blasted the ball past Jonna Mäkelä and kept the champions alive. In the sixth pair, Finland´s Veera Kauppi missed and Amanda Johansson Delgado won it for Sweden.

In regular time, Sweden seemed to bend the hosts after they rose from 2-3 to 4-3 with Emelie Wibron´s and Amanda Larsson´s goals off Finnish mistakes. Finland was able to pull themselves together and tie the game with Elina Kujala´s rebound in the second minute of the third period.

The dramatic final drew a new record attendance for women´s WFC tournaments with no less than 6,517 spectators.