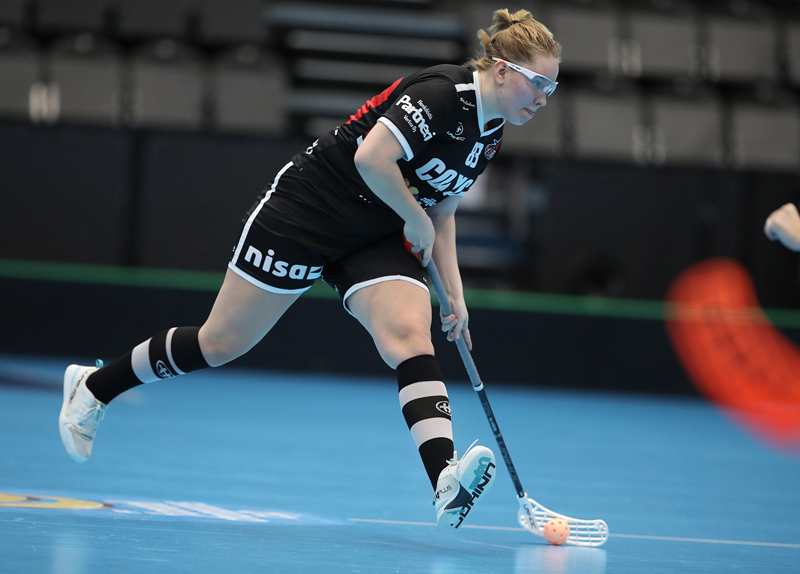 The first period between SB-Pro Nurmijarvi from Finland and Swiss team Piranha Chur is a tight one. The first goal doesn't come until 13:02 of the first period when Heidi Lirkki is able to score for SB-Pro. But only a few minutes later the Swiss even the score through Nicole Capatt. But just as the first period is winding down Nea Suominen takes back the lead with 17 seconds to go of the period.
The second period continues to have chances for both teams but once again it takes just over 13 minutes before the first goal of the period gets scored. After 13:23 Piranha Chur shows off some nifty passing as Corin Ruttimann finds Seraina Ulber in front of the net, 2-2. That turns out to be the lone goal of the third period and the teams are all even heading into the third.

When we are almost at the eight-minute mark of the third Piranha Chur get a delayed penalty and SB-Pro take the opportunity to take the lead through Heidi Lirkki. Only minutes later Laura Hietamäki comes in alone with the goalie and dekes far right to make it 4-2. But this game isn't over, with just under seven minutes left of the period Seraina Ulber gets to ball just outside the crease and finds the net, 4-3. But just as the Swiss team is pressuring the most SB-Pro turns the play around and scores 5-3.

"It was a really tough game and both teams played well and of course I am happy we won" said SB Pros Elina Kujala after the game.

Piranha Chur's MVP of the game Corin Ruttimann was very disappointed after the game. Piranha Chur had come into the tournaments with high goals but ended fourth.
"I am very disappointed, I don't know how we could lose this game. I think in all periods we a bit the better team and we had quite a lot of chances but we didn't make them" Said Piranha Chur's Corin Ruttimann.
Photo Per Wiklund