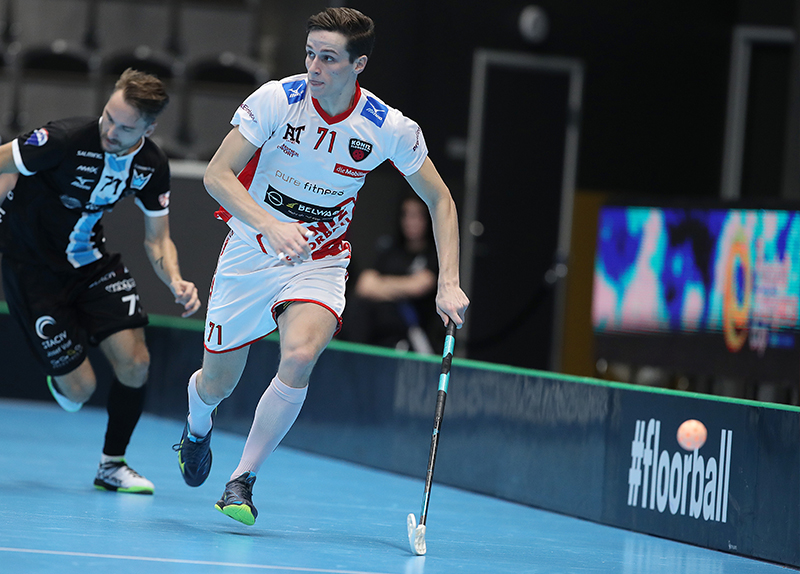 In the men's division Czech team Technology Florbal MB faced off with Swiss team Floorball Koniz for the third place in the Champions Cup. Floorball Koniz came out strong and where able to hold on to a lead almost the entire game and in the end win by 9-2.

It takes under a minute for Floorball Koniz to find the net. Olivier Hirschi passes to Julian Alder on the right side of the goalie, 0-1. A few minutes later Milan Tomasik gets the ball by the boards in the offensive zone, takes a few steps in and fires it home, 1-1. The goals keep coming this game and Floorball Koniz Jan Zaugg scores two to make it 1-3 and before the period is over the Swiss are up by 1-4.

The Czech team come out strong in the second period and Tomas Chroust can score from right in front of the goal after only 2:05. But when Koniz get a power play opportunity Jonne Junkkarinen is registered for a goal but it goes in off a defenders foot. A little later Koniz once again finds themselves on the power play and Fabian Michel bats in a rebound out of the air, 2-6. Technology Florbal get to play power play but are unable to score and instead Koniz finish the period with a goal, 2-7 after two.

In the third period the play goes back and fourth across the court but when the Swiss get a power play Julian Alder takes his time, finds the spot he wants and completes his hattrick, 2-8. As Technology Florbal try to get another goal by playing six on five Jan Zaugg steals the ball and finds the empty net, 2-9 which is also the final score.

"That was a really good game from our side, I think the whole game went as we wanted. We scored quite early goals so it wasn't that tough in the end because we were always leading." Said Koniz goaltender Patrick Eder after the game.
Technology Florbal MB's Martin Tokos was clear in his postgame analyses.
"It was quite a hard game for us. We had a really bad start and we went down 4-0 very fast. If you play an opponent like this you have to have the game under control and be concentrated the whole game."

Photo Per Wiklund