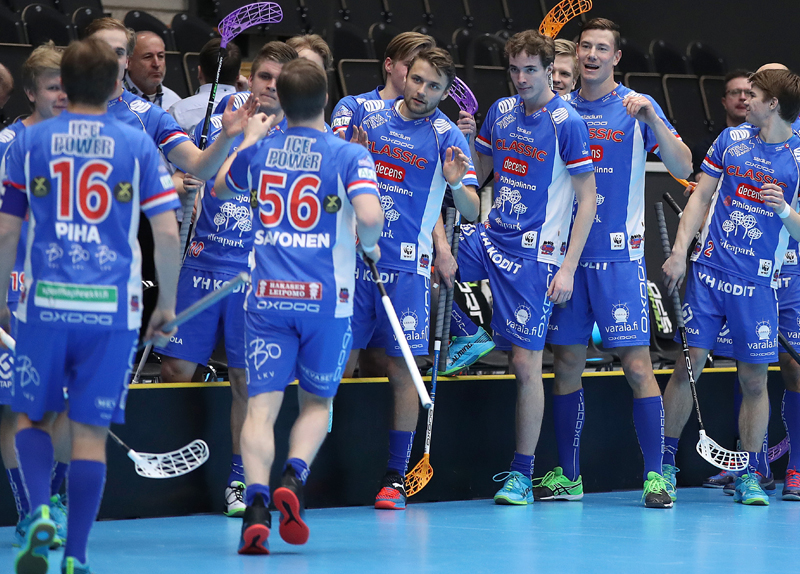 In the first men´s semi Finish Classic face Koniz from Switzerland. In the beginning of the first period both teams show a lot of patience. Defending a lot and occasionally pressuring. As the period goes on the tempo goes up and about 13 minutes in Classic is awarded a penalty shot. Krister Savonen steps forward dekes left and right and then again but faster and puts in 1-0. After the goal Classic turn it up and create several good chances. Finally Nico Salo gets the ball in the middle and sweeps in 2-0. With just over two minutes of the period left Classic extends their lead to 3-0 through Eemeli Salin.

Koniz begin the second period best. It takes less than two minutes for the Swiss team to get closer. Yann Ruh starts making his way around the goal but passes the ball to Fabian Michel who finds the net. Just as Koniz are starting to get some momentum Classic get a chance on the power play and Mikko Leikkanen blasts in 4-1 from the point position. The period sees a number of penalties and Koniz has some great shots but no more goals are scored in the period.
In the third period the teams take turns being on the attack. When we draw near the midpoint of the third Koniz get a delayed penalty and Classic strikes with a nice shot from the middle, Mikko Leikkanen makes it 5-1 with his second goal of the game. Koniz takes a time out shortly there after and tries to take out their goalie to attack 6 on 5 but it only results in another couple goals for Classic. The final score was 7-1 and Classic are headed back to the Champions Cup final!
After the game Classic defender Juha Kivilehto was looking forward to tough final but had hopes of a gold.
"We have won the finish league three times in a row so maybe it is time we win the Champions Cup now."

Koniz Jonne Junkkarinen felt they needed to have scored more on the power play to have a shot at a win in the semi, as the game turned out he felt outgunned.
"Actually I don't think we had any chance to win this game" said Koniz Jonne Junkkarinen after the game.
Photo Per Wiklund