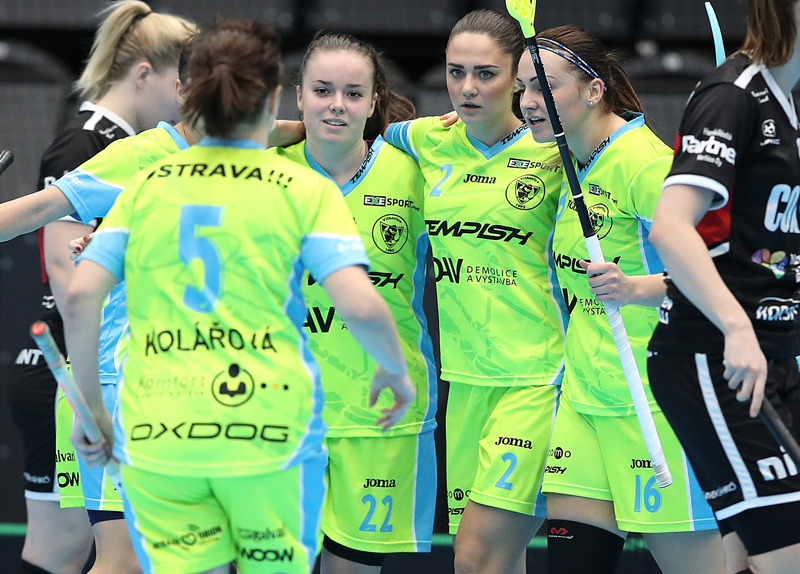 About halfway into the first period SB Pro's Ina Leminen finds Heidi Lirkki in the middle of the offensive zone and she scores 1-0. Not long after Vitkovice's Sarka Bolova gets a great chance off the right side but Tiltu Siltanen makes the save. With just over three minutes left of the first period SB-Pro strike again. Jaana Lirkki gets an open shot from the middle and finds the net, 2-0. Vitkovice creates a lot of pressure towards the end of the period but the score is 2-0 after twenty minutes.
Only 19 seconds in to the second period Vitkovice get a free hit and Zuzana Sponiarova finds Alzbeta Durikova with a long pass, 2-1. And about six minutes later Justyna Krzywak come in alone with the goalie and picks her spot, 2-2. Now the away team has taken over the game and score 2-3 within minutes. Next Barbora Huskova picks up a rebound and makes it 2-4. With just over a minute to go in the second Jenni Rautanen throws in a ball on goal and Karoliina Kujala puts it in, 3-4 after two periods.
At 4:50 of the third period SB-Pro's Mirja Hietamäki finds the net evening the score at 4-4. The game continuous to be exciting as both teams create some solid chances without scoring. Both teams get powerplay opportunities but even then they can't find the net. Instead the first semi-final of the Champions Cup goes to sudden death!
The game finishes with a beautiful pass from Veronika Enenkelova over to Dominika Buczek who puts it into the open net, 4-5 and Vitkovice are heading to the final!
"We had such a bad second period, that's why we lost the game." Said SB-Pro captain Karoliina Kujala after the game.
"We won it because we believed until the end that we can do it and we where concentrating on winning." Said game winner Dominika Buczek after the game.
Photo Per Wiklund