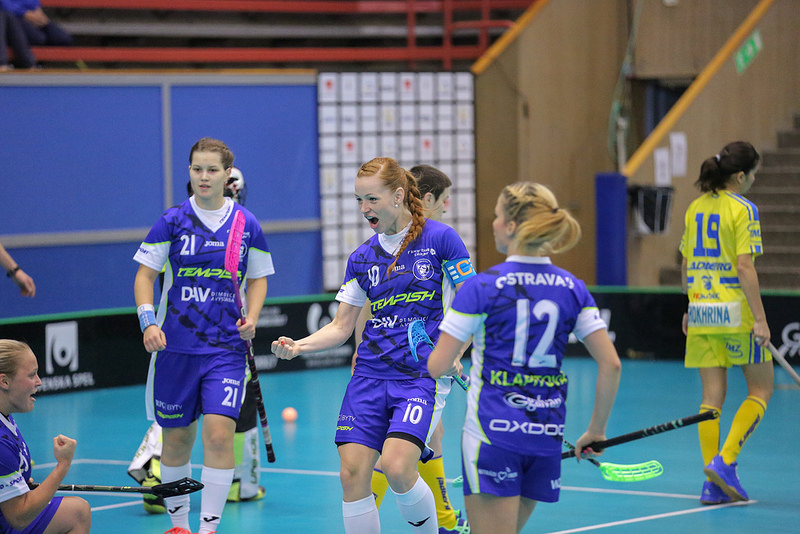 In the first game of the Champions Cup, Nauka from Arkhangelsk, Russia, were facing the champions of Czech Republic, Vitkovice. The winner was to be qualified for the semifinal against Pixbo from Sweden.
After only a minute Vitkovice´s
Adela Pantelejevova
managed to put the ball in the back of the net after some struggles in front of Naukas goalkeeper
Iana Beletskaya
. Three minutes later
Denisa Ratajova
, with a shot from afar, extended the lead to 2-0.
Nauka got the chance to come back in the game during a powerplay after six minutes. But instead Vitkovice succeeded with a counterattack and
Ivana Supakova
scored the third goal for her team. Vitkovice continued to pressure Nauka throughout the first period and had a 4-0 lead when it was time for the first break.
Within 30 seconds, Vitkovice went from 4-0 to 6-0. It seemed all hope was gone for Nauka.
Maria Kitaeva
showed great individual skills when she reduced the lead to 7-1 with 6.30 remaining of the second period. Nauka had some more chances but Vitkovice was the stronger team. The final result of the game was 12-1 and Vitkovice will play the semi-final against Pixbo tomorrow at 9.30.
- We were quite nervous in the beginning but by scoring goals we got better and better and in the end I think we can be satisfied with the match
, says team captain of Vitkovice,
Denisa Frencikova
who is looking forward to tomorrow:
- It will be a tough game tomorrow. We must be 100 % concentrated and aggressive and play at our best.