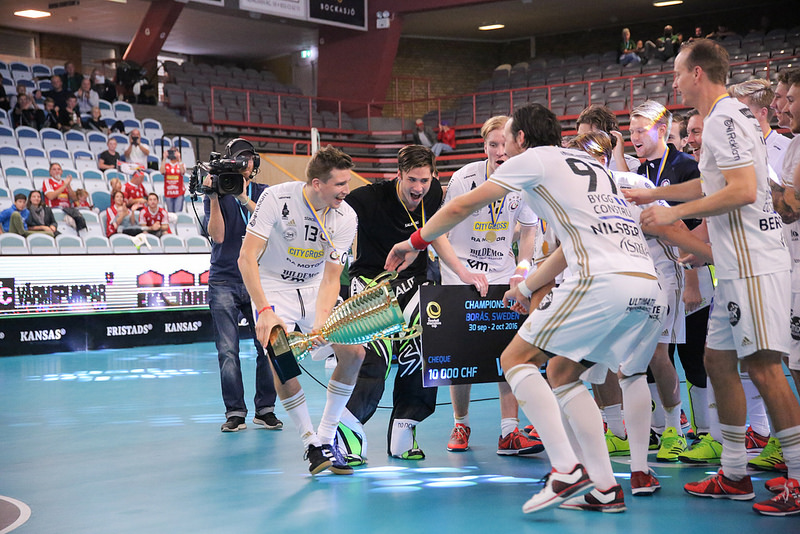 The Swedish champions Storvreta against the Finnish ones, Classic. The final game of the Champions Cup was going to be the battle of the Giants. A battle with very few goals and with a keeper beyond this world.
Classic impressed the audience big time in the semi-final against Pixbo yesterday. They were the ones to take the lead in the final as well. They did it after eight minutes and also got the chance to play five players against four a few minutes later. But instead of extending the lead, Storvretas
Alexander Rudd
broke through in a counterattack and equalized the result to 1-1.
Although there were no goals during the second period, both teams played with high intensity and there we´re opportunities to score in both directions.
55 seonds into the third period, Rudd found
Robin Nilsberth
in powerplay. Nilsberth took the shot that gave Storveta the lead 2-1.
- In floorball there are often a lot of goals and I couldn´t imagine that mine would be the game-winning one, says Nilsberth after the final.
Classic tried their best to come back in the game and really put a pressure on Storvreta. Goalkeeper Viktor Klintsten did an amazing performance and saved not less than 26 shots. He was extraordinary. 2-1 was the final score, and Storvreta can now call themselves the best team in the world.
-
We knew it was gonna be a tough game but Viktor (Klintsten) was great in the goal and we were great as a team. We are very satisfied right now,
says Nilsberth.
All Star Team

Goalkeeper: Lassi Toriseva
Defender 1: Krister Savonen
Defender 2: Robin Nilsberth
Centre: Alexander Rudd
Forward 1: Eemlie Salin
Forward 2: Albin Sjögren