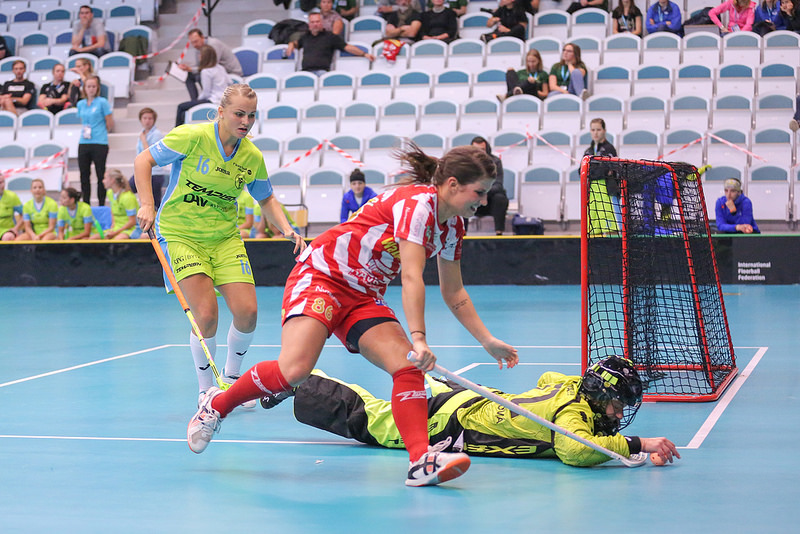 There was a lot of pressure on the Swedish Champions in todays semifinal. An easy win was expected against Vitkovice. In the end - they won. But they had to fight hard for it.
Vitkovice shocked the Pixbo by taking the lead five minutes into the first period. Team captain
Denisa Ferencikova
showed both skills and determination when she scored the first goal. And they continued causing trouble for Pixbo. At 8.58
Michaela Sponiarova
extended to 0-2.
Pixbos first goal was scored by the Czech national team player,
Eliska Krupnova
, 5.39 into the second period. The goal was an injection for them and they had plenty of chances to equalize but Vitkovices goalkeeper Lenka Kubickova did some amazing saves. When Vtikovice got the chance to play 5 against 4 with only a few minutes left of the period,
Ferencikova
scored her second goal for the day. Pixbos answer was immediate and it came in powerplay as well, by
Emmelie Södergren
.
Vitkovice was still in the lead with 2-3 when the third period was off to start. The equalaizer came when
Frida Ahlstrand
hit the top of the net with an unreachable shot at 5.14. Eight minutes later,
Alicia Fylke
, with an unexpected shot, gave Pixbo the lead for the first time in the game.
- It felt very good. The plan was actually to give a pass to Emmelie Södergren but I think it went on a foot or something,
she comments her game-winning goal.
Fylke wasn´t all too satisfied with their start of the game.
- We were a little bit too stressed in the beginning. And we didn´t think they were gonna be as hard as they were.
Viktkovice really fought hard until the end but this time it wasn´t enough.
- I think we did one of the best games ever. We should be proud of ourselves,
says
Lenka Kubickova
who did an amazing game this semi-final.