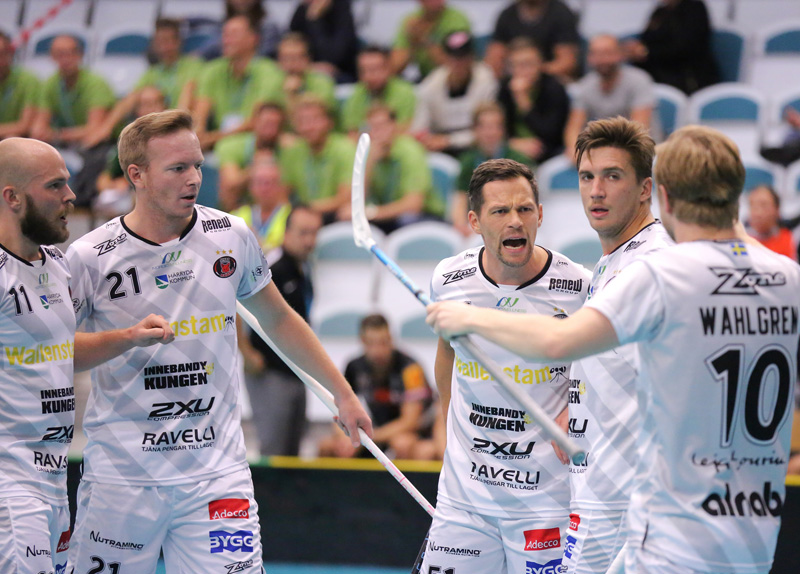 Pixbo Wallenstam´s men´s team is through to the semifinal in Champions Cup after winning big against Grasshopper Club Zurich 11-2.
Swedish Pixbo Wallenstam took the lead just after 27 seconds when Daniel Calebsson found Tim Wiklund with a cross ball. And within eight minutes, Pixbo had taken the lead with 3-0.
Swiss Grashopper created a lot of chances, but Pixbo´s goalkeeper Jon Hedlund played superb and kept his opponents goalless for a long time.
- We played well during most of the game. We could have been up 8-0 after two periods. But we did not score on our chances in the first two periods, but we made up for that by scoring a lot of goals in the last period, says Jon Hedlund.
Linus Henriksson did 4-0 in the second period, and Martin Östholm continued with his 5-0-goal in the beginning of the last period. At the end, Pixbo won 11-2.
Grasshopper´s second goal came from the former Pixbo player Emil Julkunen. And the forward did not celebrate after his goal.
- No, of course I didn´t want to celebrate, I have been in Pixbo since I was five or six years old. This is the first time I have changed clubs, says Emil Julkunen.
Pixbo plays the semifinal against Finnish Classic tomorrow at 18.30 PM. The game can be seen at IFF:s Youtube channel. In the other semifinal, Swedish Storvreta plays against Czech Chodov.
- I think it will be a tough game for sure. The Finnish teams are always good. But it will be fun, says Hedlund.
Grasshopper plays against Norwegian Greaker tomorrow at 21.00, to compete of the 5th place in the tournament.