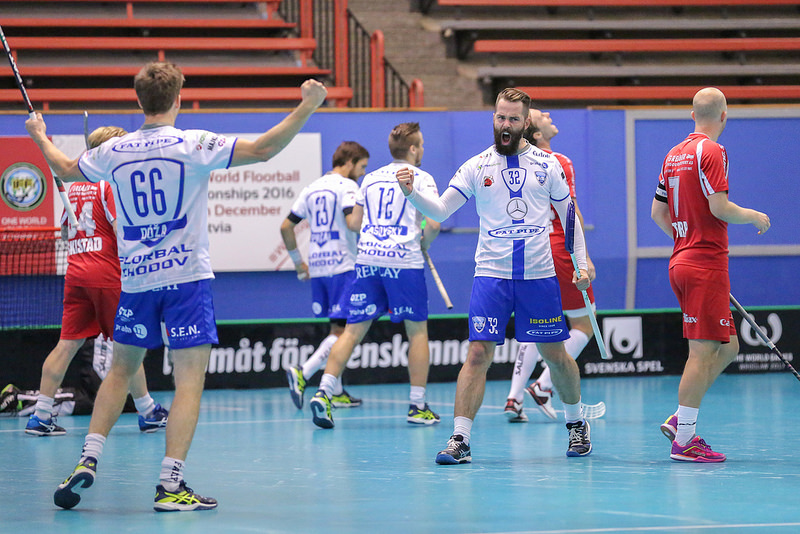 The first quarter-final of the Champions Cup was played between Greåker (Norway) and Florbal Chodov (Czech Republic). Greåker fought well but Chodov were stronger in the end.
Chodov got a good start when
Patrik Doza
scored with less than a minute on the clock. In powerplay, five minutes later,
Martin Koutny
succeeded with his shot and Chodov had got themselves a 2-0 lead. And they were going to get lucky again with one more player on the field
,
when
Dan Kasovsky
extended their lead to 3-0.
Both teams showed aggressiveness but Greåker wasn´t as effective as Chodov when they got their chances.
Joacim Rudman
scored the first Norwegian goal of the game but the first period ended 4-1 for Chodov.
In the beginning of the second period
Martin Isnes Kvisvik
hit the net
i
n powerplay. The answer from Chodov came only a few minutes later when
Patrik Doza
scored his second goal with a beautiful shot. Doza was successfull throughout the game, which ended 7-4 for Chodov.
-
We knew that if we played at our best, we were most likely gonna win. We let some young guys play in the third period, and we played a little bit without discipline. I think we hade the game under control after ten minutes,
says Chodov´s star player Doza.
Tomorrow they will be facing the Swedish champions Storvreta.

- We´re gonna try to do pretty much the same. Of course they are favourites but I think we can go in and surprise them if we play good.